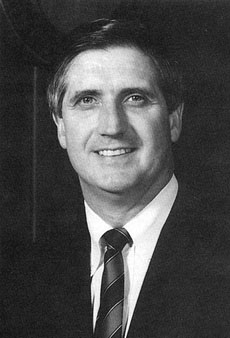 Former Chief of Staff for the Bush Administration, Andrew Card, shares stories and insight with those up-and-coming in the media industry. On Thursday, April 7, 2011, Card joined students from George Mason University and the University of Denver in a video conference to be aired on C-SPAN three the following day at five p.m.
Hosted by Steve Scully, political editor of the C-SPAN networks, the conference and interview session provided insight into Card's political career, particularly his time spent with the Bush family, and how he got to where he was.
"I used to be a newspaper boy," chuckles Card. Having been surrounded by media from a very young age, it's no wonder Card's most memorable moment was telling President George W. Bush that the Twin Towers had been hit on 9/11.
Card notes that as soon as he got word of a second tower being hit, he "knew it was Bin Ladin." After recounting the morning's events, it was clear that this memory stuck out to Card more than any other. Likewise, this event would be the primary moment that Card is remembered for in the media – he, of course, being the bearer of the worst possible news.
But of course, it's all in the job description.
Being the Chief of Staff, Card's job is to decide what is necessary to bring to the president's attention. That being said, Card maintains that he was privy to terrifying information; now that he's no longer in the limelight, however, he is more fearful of what he doesn't know.
Speaking in terms of the Bush presidency as a whole, Card maintains that the Bush administration was "misunderstood". Having approval ratings soar after 9/11 and plummet after the failure to find weapons of mass destruction in Iraq, there's no denying the public's fickle mindset regarding former president George W. Bush.
According to Card, however, this is typical of any political candidate.
"They're love magnets when they run for office and lonely when they serve", he states. It is this theory, in addition to his home state's distaste for Bush that steered Card away from running for the late Ted Kennedy's senatorial seat in Massachusetts, despite his opponents offer to step down should he decide to run.
"I would have had to run three campaigns, with the main one being 'I am not George Bush'," states Card.
"The Chief of Staff's job is to help the president do the president's job", maintains Card. In this particular case, Card used a close personal relationship with the President to determine what was pertinent. Stating that he feels "comfortable telling the President almost anything", it could be considered a challenge to maintain the boundary between friendship and professionalism. Card, however, seemed to have found the right balance.