You are currently browsing the category archive for the 'Individual tech blog items' category.
With the advent of Twitter, Facebook and similar sites, it seems that "social media"  is the new buzzword for today's media professionals. That being said, social media is not some magic wand that casts a spell over unassuming audiences (then it would be called propaganda). Likewise, many new to the field think that if they start up a "social media" company they will be marketing geniuses and multimillionaires overnight.
News flash – that simply isn't true.
Yes, social media is a powerful tool to get messages out to vast audiences. However, the way that said messages are framed and communicated makes a big difference in overall effectiveness. Not all communication works, but in the case of social media, your best bet is making sure that any and all communication is strategic in nature.
Here are some of the top social media myths that plague this growing industry:
If I 'Tweet' something, everyone will see it.
It doesn't matter if it seems inappropriate or out of place, I can always delete it later (remember: once it's online, there it will stay).
Facebook / Twitter / Linkedin accounts are seperate (this might be true, but the site will often automatically link them based on names and interests).
If I'm hosting a large event, all I need to do is make a Facebook event and everyone will come.
Social media is a one-way conversation.
All of the above are untrue the majority of the time. Check out www.zombiejournalism.com for more insight on how to properly network using social media tools.
Any old-school journalist will tell you that in order to successfully cover a multi-platform story, the key is in having the right equipment. While this used to mean having a full camera and tripod setup, a mic kit, and the right editing software, times certainly are a-changing.
New media has sparked a new phenomenon coined 'mobile reporting', in which smart phones are used as the primary tool for capturing audio, video, and uploading it online. Through the integration of these technologies, journalism can capture images with a one-man team instead of a production studio. Here are some of the  ways that mobile journalism has affected the field as a whole:
Audio capture
Video capture
Photography
Mobile VoIP
Twitter
Ipad & Accessories
However, as with any new trend, there are some downfalls. While accessibility is increased, quality of audio and video has  certainly decreased. With the advent of mobile journalism and the citizen journalist, some might argue that these new methods allow increased accuracy and in-the-moment style reporting.
Having worked across the media industry for the past 36 years, one could say that Brad Kalbfeld has seen it all. From the pre-computer era to Twitter-topia, the media and journalism industry has transformed in these recent decaded into a whole different animal – and in order to prevent being left behind, today's reporters must learn to live and love all forms of new media.
Just ask Kalbfeld.
"When people used to ask where I was from, I used to say 'the future,'" he jokes. But all kidding aside, Kalbfeld really has been tuned into digital revolution – and it's only benefitted his career. Not only was it his idea to  integrate audio and video into the Associated Press publications, but he came up with it five years before it saw fruition.
But in reality, it is those innovative ideas that create new media and what we experience today. The question now remains – what's next?
There's no question that the job description for journalists often involves   travel. Covering a good story can take you to the other side of the world – just ask seasoned journalist, Kevin Anderson.
Although is was born and raised in the U.S., his work at the Gaurdian and the BBC has taken him to London, UK, as well as all over Europe and Asia. With his newest conquest taking place at Al-Jazeera, Arabic, Anderson has found himself in the Middle East covering politics and conflict. Despite the change in media outlets, Anderson says that he uses many of the same skills that are used in traditional journalism, only with a digital twist.
For more information about Anderson and his experiences in the media, click here to access his Linkedin information and blog, the Strange Attractor.
The beauty of the new media age is that it can take a simple concept, such as a map, and use integrative technology to encourage user interactivity. One of the newest and most useful examples of this type of technology is the ZeeMaps program.
By simply entering information into the entry boxes, one can easily create an interactive map for their online needs. Not only is ZeeMaps user-friendly, the best part is, it's free! (Great for struggling journalists).
To see an example of an in-progress ZeeMap, click here.
In today's globalized age, many business partners are working together on projects that cannot be completed without some sort of visual collaboration. However, constantly playing email tag and attaching documents constantly can be tedious and unsuccessful.
With these issues in mind, Mindmeister.com came up with a creative solution. By allowing users to create "mind maps" in which they visually map out ideas and charts to organize projects, this gives others involved in the project the ability to not only view the project, but also make changes, add notes and other collaborative elements. To view an example of my very own mind map, click here.
For those of you who are tired of using the typical Powerpoint presentations, the digital revolution and bloggers have come together to create a unique and visually pleasing alternative. Prezi is one of the latest digital platforms released, however, the unique spin is that it uses a blog to host presentations.
Not only is this application user-friendly and very conducive for creating professional quality presentations, but moreover allows audience feedback via internet comments and links. For an example of a recently-developed "prezi-tation", click here.
For those aspiring journalists who want to keep up with and utilize social media, meet your new best friend. Storify allows users to create multi-platform media stories using a drag-and-drop method, so that even the most technologically illiterate can use it well.
However,  the unique twist is because the creators of Storify took a few weeks to actually divulge what it could be used for, creatives everywhere have taken it upon themselves to explore any and all possible functions. Mandy Jenkins explores the topic further on her blog, zombiejournalism.com.
Hate having to stop and pause your video game for meaningless things like food and sleep? Have no fear, with the advent of the new Sony Ericsson Xperia Play, you can bring your video games with you everywhere you go! For more information and commentary on the prodct, click here.
Claudia Holland's lecture on copyright, fair use and creative commons brings an interesting governmental decision to light. In recent days, popular television streaming websites have been seized by the U.S. government, in an effort to eliminate illegal downloading. However, in an age where the internet allows access to almost any form of media, one must ask, is this even realistic? Find out the whole story at examiner.com.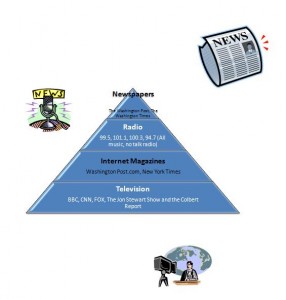 This media pyramid illuminates the different types of media that I consume, as well as the media sources that supply my daily intake of news and information.
Similar to the food pyramid, the top tier showcases what media I am exposed to the least, while the bottom tier symbolizes the media that I am most exposed to.
Here is a quick (and more visible) outline of my media pyramid:
Newspapers -The Washington Post and The Washington Times
Radio – 99.5, 101.1, 94.7
Internet Magazines – washingtonpost.com, nytimes.com
Television – BBC, CNN, Fox, The Colbert Report